I have ordered a kit of DIY-transistors from DX.com:
http://www.dx.com/p/3-pin-triode-transistor-for-diy-project-black-200-piece-pack-132760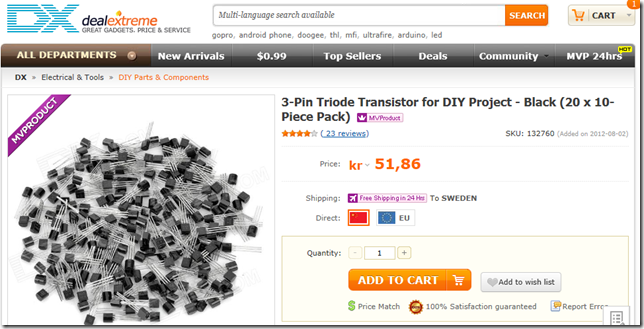 The delivery was swift, the only problem was that there where no documentation included.
I think the supplier for this kit is http://www.mccsemi.com/, at least I got good hits in all but one component on their web page.
I have collected information for all the transistors in this kit and made a local copy of all the datasheets in case I need the in the future.
Text
MCC P/N
Polarity
Pc
Vceo
Ic
PDF
Note
S9012 H 331
S9012-H
PNP
625mW
25V
500mA
S9013 H331
S9013-H
NPN
625mW
25V
500mA
S9014 C G18
S9014-C
NPN
400mW
45V
100mA
S9015 C G18
S9015-C
PNP
450mW
45V
100mA
S9018 H 331
S9018-H
NPN
310mW
18V
50mA
A 42 B331
MPSA42
NPN
625mW
300V
300mA
MPS A92 128
MPSA92
PNP
625mW
300V
300mA
A733 P331
2SA733-P
PNP
250mW
50V
100mA
A1015 GR331
2SA1015-GR
PNP
400mW
-50V
-150mA
C 945 P 331
2SC945-GR
NPN
400mW
50V
150mA
There is no
product named P.
C1815 GR G18
2SC1815-GR
NPN
400mW
50V
150mA
2N3904 B 331
2N3904
NPN
625mW
40V
200mA
2N 3906 B 331
2N3906
PNP
600mW
40V
200mA
2N 5401 B331
2N5401
PNP
625mW
150V
600mA
2N 5551 B331
2N5551
NPN
625mW
160V
600mA
S8050 D G18
S8050-D
NPN
625mW
25V
500mA
S8550 D G18
S8550-D
PNP
625mW
25V
500mA
SS8050 D 331
SS8050-D
NPN
1W
25V
1.5A
SS8550 D 331
SS8550-D
PNP
1W
25V
1.5A
TL431 A F8
TL431
Voltage regulator